Coaching Ski, Télémark and Snowboard
Réservation
From 195 CHF
Private and personalized coaching only
For over 18 years, the founders of the "Verbier-Experience" The Swiss ski school and mountain activities offer you unique services that allow you to discover the mountain in different ways.
All our instructors and coach are in possession or in the process of having a Swiss certification (Swiss Snow Sport or SSBS)
Our eclectic team will adapt to your needs and will be happy to accompany you on the large ski arena of the Verbier4Vallees. Through a playful learning we can optimize your technique of gliding. Through precise advices, we will help you to progress, make you feel more comfortable and safe in every situation. Our long and local experience will be an asset to your holliday, and we will be happy to give you all of our knowledge about Verbier4Valles, its mountain environment, the local history, the traditions, the gastronomy, the economy and the customs of our region.
Each person will be taken care of individually, it is up to us to provide you with the technique that will make you evolve in all types of snow.
For better comfort, our guides speak French, English and Spanish.
Ask for an offer depending on the period, we will adapt.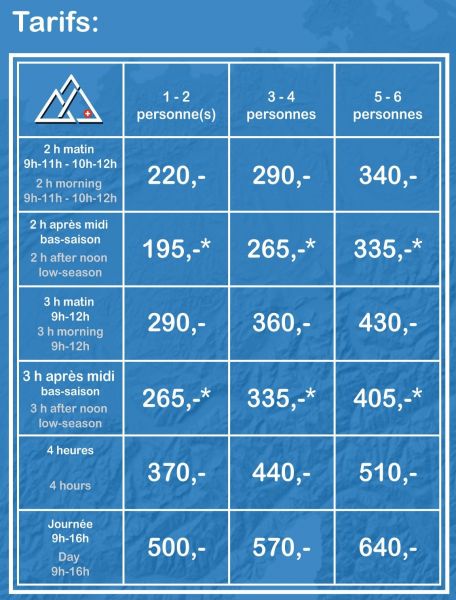 Book your lesson or activity in advance
* Low Season, 01.11 to 16.12 2022, 14.01 to 03.02 2023, From 11.03.2023